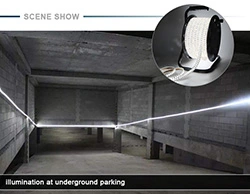 How to work safely on a construction site in the dark with AC LED Strip Light
In order that construction work can continue effectively and safely in periods of insufficient natural light, it is important that a site is fitted with suitable artificial lighting. Lighting can be used internally for general movement and working on the site itself, externally for illuminating entry, storage and circulation areas, and can also be an effective form of deterrent for trespassers.
There are a wide range of lamps available, from simple tungsten filament lamps to tungsten halogen and discharge lamps. Site lighting is generally run off mains electricity at a voltage of 230 V, rather than through the use of generators. Sometimes it can be necessary to reduce the voltage to 110 V.
NEDAR promote an item of 25m powerful LED strip that connects directly to AC110V/AC230V for lift shaft construction site tunnel Lighting.
When we do it?
On 2019 Hong Kong Lighting Fair, when we leave in evening and walked by a nearby construction site for a new building and noticed something interests. The contractors were using AC LED strip lights for their temporary work lighting, they had it strung up and threaded through the scaffolding.
I am very excited to see a leap in technology from blinding high-power, fragile metal halide "cage lights" to flexible, durable cords of light that distribute the illumination far more evenly. I bet they have these strip lights on cord reels just like any other electric extension cord or pneumatic hose.
Then we start this business.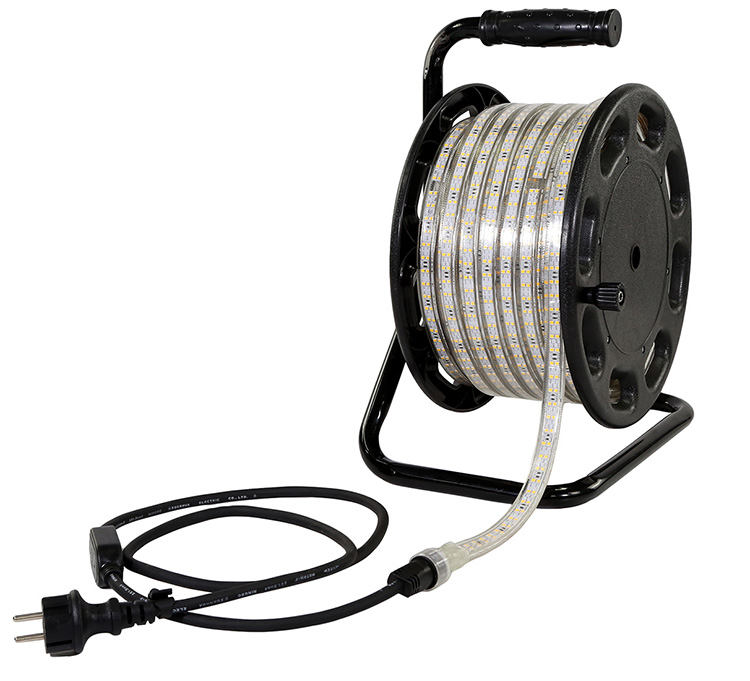 25 meter powerful LED strip. Each roll consists of 4,500 high-performance LEDs that are evenly distributed throughout the length. This provides a good working light along the entire LED strip. Connected directly to AC110V/AC230V. With the help of a small converter on the connection cable, alternating current is converted to direct current. The light is divided into independent segments, which means that if a segment should stop working, the rest of the LED strip will continue to light so that the work can continue.
Applications
Construction site - Building painting - Shipyard - Tunnel project -Lift shaft - lift cabin -Temporary site lighting. The LED strip is extra well protected and is encapsulated with several layers. Connectors are designed to prevent damage and be quick to use. Plug & Play. Well-insulated rubber cables that ensure safety even in cold and exposed areas. Plug & play! It cannot get easier. The original LED strip on the drum. Perfect for good space utilization and easy handling. Direct replacement for several other lighting products. You will never need to change a bulb again.